If enjoying great Central Otago wines and stunning scenery are your passions, you have arrived at a wonderful place. With more than 25 vineyards in the Alexandra Basin, our quality focused winegrowers look forward to meeting you!
Many of the Alexandra Basin vineyards and wineries offer visitors a bespoke wine tasting experience and the opportunity to buy wines not widely available elsewhere. We grant you access to high quality Pinot Noirs, providing a truly personalised and unique tasting experience, set amongst the stunning landscape.
New Release Tasting - 23rd October 2022
Tickets Available From EventBrite or Henry's, Alexandra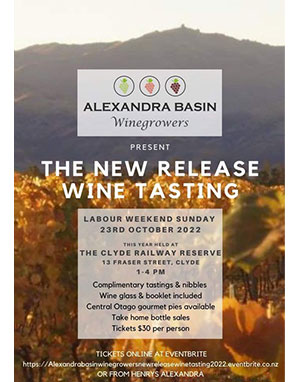 Click image to enlarge.